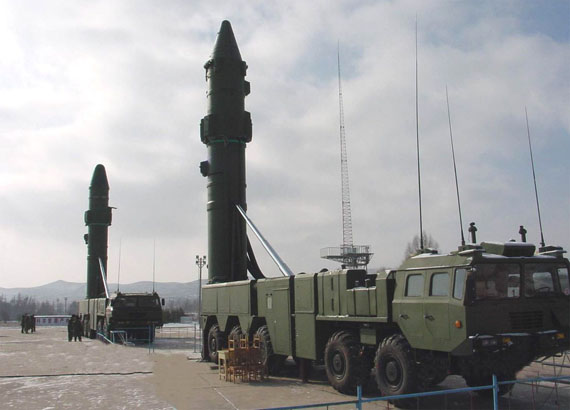 I am fascinated by China's development of conventionally-armed ballistic missiles, particularly the development of a conventionally-armed DF-21 variant, the DF-21C (pictured above, it seems).
I recently read an article in Defense News by Wendell Minnick on conventionally-armed DF-21s and the threat to US carriers.
It's a good article. One observation, though — the author and experts describe the conventionally-armed anti-ship ballistic missile (ASBM) as the DF-21 C or Charlie. The conventionally-armed DF-21 is the DF-21C. But I believe that the ASBM variant has a different number — the DF-21 D or Delta.
A brief history of the DF-21: China developed the solid-fuel, medium-range DF-21 through the 1980s, with deployment starting in the early 1990s. Deployments did not begin in earnest, however, until the late 1990s. The Chinese refer to having two variants of the missile — the DF-21 and the DF-21A, which correspond to the IC designation CSS-5 Mod 1 and Mod 2, respectively. (See the recent DOD/DOE white paper, for example.)
As early as 2005, descriptions of the long-awaited conventional DF-21 were described as the DF-21C — which would presumably correspond to a CSS-5 Mod 3. That seems to be the mystery missile carried by various pictures of China's shiny new TEL. (Above is the most widely published of those images.) Sinodefence.com has a nice gallery of DF-21C images. I offer them with the disclaimer that I haven't convinced Calluzzo to model them yet. So, I merely observe that other people think these are 21Cs and that seems like a reasonable working hypothesis to me.
That brings us to the ASBM. An anti-ship ballistic missile is a special kind of conventionally-armed ballistic missile. Chinese Military Power describes the new ASBM as a "based on a variant" of the DF-21. The "variant" is presumably the DF-21C/CSS-5 Mod 3. That would make the ASBM version the Delta and the Mod 4.
I am pretty sure that I am right about this. But your comments, dear readers, are welcome.