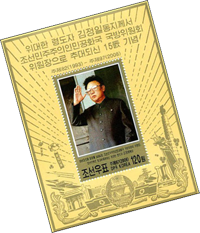 Yonhap reports that the NIS told South Korean lawmakers that Kim Jong Il did suffer a stroke, but is recovering after surgery.
"Kim suffered either a stroke or a cerebral hemorrhage, but is recovering, the [South Korean] intelligence agency said. Pyongyang is not in a state of administrative vacuum," Won Hye-young, the floor leader of South Korea's main opposition Democratic Party, told reporters after attending the closed-door parliamentary session on Wednesday.

"Although Kim is not fit enough for outside activity, he is conscious and able to control affairs," Won added.

Other lawmakers who attended the session, where the chief of Seoul's National Intelligence Service briefed the parliament, backed Won's remarks.

"Kim was planning to attend the founding ceremony in the afternoon, but was unable to make it due to the aftereffects," an unnamed lawmaker quoted an intelligence official as saying.
Joong-ang Daily puts the date of the stroke on or about August 15 and carries a caution about reporting on the pace of recovery from abroad:
"It is not easy figuring out the pace of Kim's recovery after brain surgery, but we believe that he has recovered and still is in recovery," the senior intelligence official told South Korea's National Assembly. He asked for anonymity due to the sensitivity of the issue.

[snip]

"Chinese doctors are still staying in the country to treat Kim," he said.
The image is "a stamp issued earlier this year in North Korea to celebrate the 15th anniversary of Kim Jong-Il's coming to power." The image is copyrighted to Yonhap, but appeared in the Chosun Ilbo.