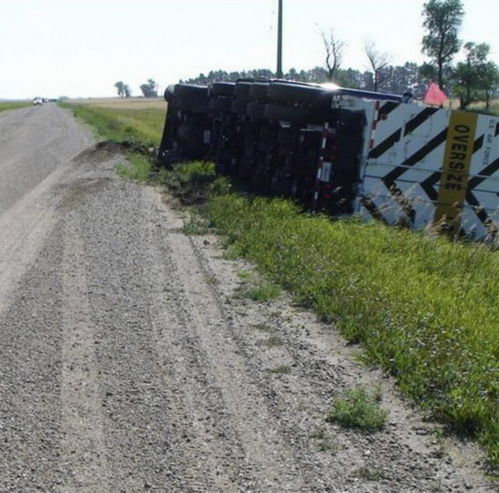 This time, a truck carrying a MMIII booster overturned on a gravel road in North Dakota:
A truck carrying a rocket booster for an unarmed Minuteman III intercontinental ballistic missile tipped over on a northwestern North Dakota road on Thursday, but no one was injured and there was no threat to the public, an Air Force official said.

The transport rig crashed on a gravel road at about 8 a.m. Thursday near Makoti about 70 miles from Minot Air Force Base, from where it departed, the Air Force said.

"There was no weapon present and no danger to the public," said Maj. Gen. Roger Burg, an Air Force spokesman.
Here is an interesting question — do you think this represents a spike in incidents or is it simply the case that the media now reports even routine mishaps at Minot?
I don't mean to diminish the very real organizational pathology that I believe afflicts the US Air Force (see the churlish comments but outgoing Secretary of the Air Force), but I wonder how many vehicle accidents Minot experiences every year.
Interestingly, the Air Force Safety Center publishes excellent aircraft accident statistics, but not other kinds of accident data that would permit a calculation. Isn't that an interesting organizational bias?
Late Update Reader "Andy" points out that Air Force Major General Roger Burg said "We have had three or four similar accidents over the last 25 to 30 years." The context of "we" is a little unclear, but given his organizational position — Commander of the 20th Air Force — I assume he means the ICBM force as a whole, rather than Minot. That means the entire force has experienced a comparable incident every 6-10 years. It has been 11 months since the Barksdale incident — so 9-15 percent probability of experiencing such an accident. Presumably the data is also skewed given that the Air Force today drives fewer miles to support a smaller ICBM force than the 1054 missile force at the height of the Cold War.
Also, thanks to "Andy" for the picture of the truck.