Gosh, I am going to miss ol' Trey Obering when he retires in January. Ok, no I won't.
He gave an outbrief today that, I hear, was nothing of the sort — just the same tired hat-in-hand for MDA routine. We smuggled a little spy in, so there will be more on that front later.
But I just noticed the other day that General Obering has changed his tune on how many Aegis ships would be needed to defend NATO from an Iranian ballistic missile attack.
See, when he wanted all the missile defense dough to go to that unworkable site in Poland, he told Representative Tauscher that her alternative proposal to use Aegis cruisers to defend NATO against Iranian missile attacks would require 40 ships and cost $17 billion to stand-up (and another $600 million per year to operate.)
You may recall that I expressed some doubt about the claim that 40 ships were necessary:
[MDA Director General Trey] Obering was obviously aware of the proposal, because his prepared statement included a long dismissal of the mobile systems that asserted the Navy would need 40 Aegis ships to defend Europe:

[snip]

When I read this, I thought 40?

As in FOUR ZERO? Is this like the biblical 40? As in "We don't know how many, because we only have eyes for ground-based midcourse"?

The Aegis defended area or footprint is supposed to be much, much bigger than Obering's remarks would suggest.
I talked a little about different burnout velocities and radar performance, suggesting that a straight analysis might reduce "the number of ships required by an order of magnitude from forty to four" and "make the mobile option much, much more attractive."
Well, well, well. Then General Obering went to RUSI with this chart showing … wait for it … significant coverage of Europe with just four Aegis cruisers.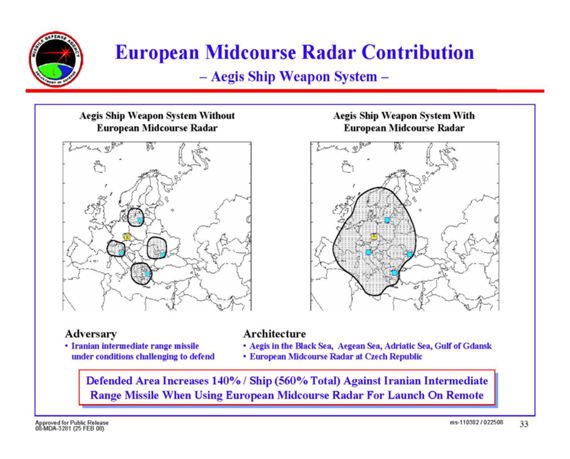 Oh sure, you might want a THAAD battery here or there and maybe a ship or two as reserve. But you clearly don't need 40 ships to cover our NATO allies and other European partners.
Here is a hint, don't tell Congress one thing and a British thinktank, even a friendly one, something else.