As many of you undoubtedly noticed, Scott Kemp and I contributed captions to the slide show that accompanies Bill Broad's article in the New York Times, entitled A Tantalizing Look at Iran's Nuclear Program.
It was tremendous fun working with both of Scott and Bill Broad. I am hoping to post a master list of captions when I have a little more time.
The most gratifying element of the story, however, is the incredible emphasis given to the blog and, in particular, your comments. Here is a sampling:
"This is intel to die for," Andreas Persbo, an analyst in London at the Verification Research, Training and Information Center, a private group that promotes arms control, said in a comment on the blog site Arms Control Wonk.

[snip]

Arms Control Wonk, which Dr. Lewis of the New America Foundation runs, led a discussion of the photo. Most comments focused on parts. But Geoffrey E. Forden, an arms expert at M.I.T., noted that the table also held an Iranian flag.

"Indigenous manufacturing of sophisticated components is something to be very proud of," he wrote. "And showing them with an Iranian flag is a very good way of graphically proclaiming it."
It isn't often that a discussion on a blog is considered part of the all the news fit to print. I am really humbled to have such great readers.
Thanks.
***
Now that I've got your feeling all warm and squishy, a little question. I observe that one of the tour guides for the April 2008 Ahmadinejad visit appears to be the same tall, bald guy who led Khatami around Natanz a couple of years back. Compare and contrast: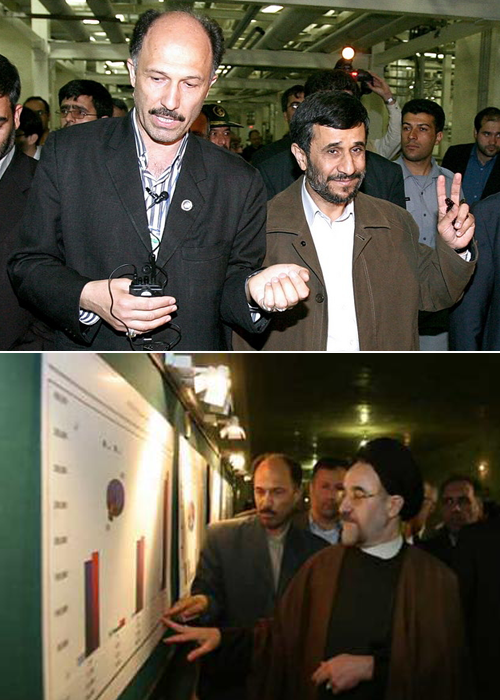 Now, maybe baldy is just the regular old Natanz tour guide. But he's shown both Presidents around and I would expect some representative of the senior leadership at the Fuel Enrichment Plant to play tour guide for a big deal like the President of Iran coming to visit.
Also, I obverse that, unlike the other Natanz employees, he doesn't have a badge — though he is wearing a pin with a logo that might be similar to the one visible on the badges.
Possible candidates could include the individuals identified in sanctions reports as being responsible for the FEP. (Given how those lists were compiled, however, I am little cautious.)
Dawood Agha-Jani, Head of the

PFEP

, Natanz
Ehsan Monajemi, Construction Project Manager, Natanz
Seyed Jaber Safdari, Manager of the Natanz Enrichment Facilities
My suspicion is that it is Monajemi. He is quoted in the news stories about Khatami's tour, which leads me to believe he was present.
And the bald guy showing Ahmadinejad around takes over the tour during the visit to the cascade halls that are still under construction — which would be an appropriate time for the construction manager to take over the tour.
But that is just a guess.