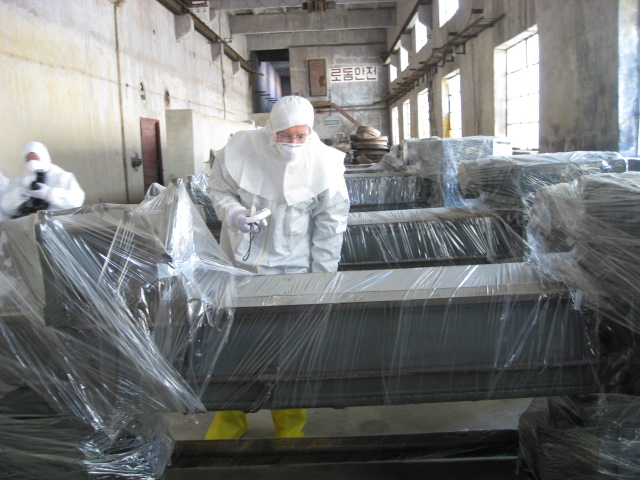 Siegfried Hecker examining machining lathes removed from machine shop at the Yongbyon, North Korea, fuel fabrication facility.
This image is one of eighteen photographs by Hecker and SFRC staffer Keith Luse. I was surprised to see the images online, as well as a trip report by Luse for members of the Senate Foreign Relations Committee, which is available on the National Committee for North Korea website.
The most interesting statement, to me, was Luse's question whether hardliners in the military will resist any deal:
Chairman Kim Chong-il may be the only person in North Korea who truly knows the basis for North Korea not submitting a complete and correct declaration of its nuclear weapons program by December 31, 2007. Endless speculation circulates regarding North Korean intentions for the short-term, as well as future prospects of eliminating the nuclear weapons program. There are other issues and questions regarding dismantlement and eventual elimination of North Korea's nuclear weapons inventory.

Is the North Korean military resisting MFA efforts to substantively engage with the U.S. and the other five countries? Chairman Kim's best efforts to orchestrate a balance among competing interests within the North, may be a "stretch too far" for North Korean military hardliners. Declaring and discarding the jewel of their arsenal will be difficult for those viewing it as the ultimate deterrent.
Luse's report included a memo by Hecker, which I linked to the other day.