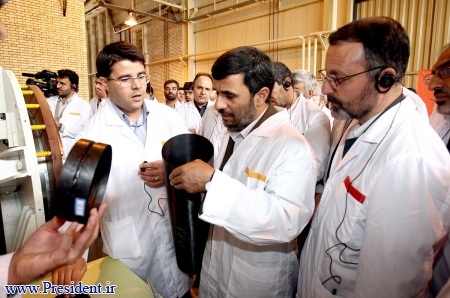 Nothing says "wonkporn" like a centrifuge rotor, especially one made of carbon fiber.
Here is how Iraqi nuclear weaponeer Mahdi Obeidi described his "first time" seeing a URENCO TC-11 segment made of carbon fiber.
Then he showed us a centrifuge rotor, which surprised me because it was a highly classified object. Roughly the same dimensions as our maraging steel rotors, its smooth, dark gray surface reflected no light. Schaab held it gently in his fingers, caressing it as though he had pulled it out of the earth and sculpted it into form with his own hands rather than winding it on a machine.
Yeah, you might want to towel off that rotor before touching it.
So, imagine my surprise when I learned the Office of Iran's President released almost fifty photographs of Ahmadinejad hanging out among centrifuges, including a couple of shots of him cradling a carbon fiber rotor casing for the IR-2 (above).
David Albright has described the IR-2 as one-half the length of the P1, or about 50 centimeters. MSNBC reports that Ahmadinead is 5 feet 4 inches, or 163 centimeters. tall. The segment does looks to be about one-third his height.
The picture also contains a hand holding what looks, to me at least, like it might, might be a carbon fiber bellows — although I don't have any reference images to compare. Albright claims that Iran decided to dispense with the bellows, so maybe it is something else or just a piece of junk. Comments are welcome — the photographs are a little hard to make out.
Also, there is another shot with the casing and a rotor with, I think, a bearing on top of it.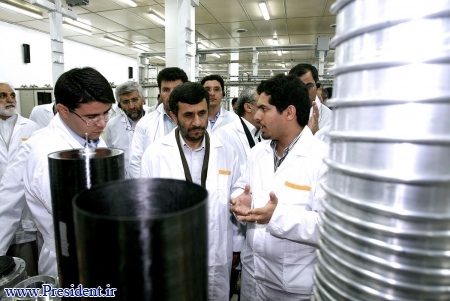 Anyway, the pictures are available on on the Iranian President's website.
In case you want direct links, the images are:
http://www.president.ir/piri/media/mid/28832.jpg
through
http://www.president.ir/piri/media/mid/28881.jpg
Two of photographs are missing. Have fun.