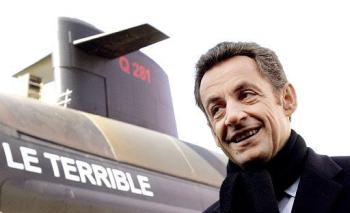 Click on the image for the AFP story, which has the best images, including Sarko talking and, my favorite, Sarko climbing down into a hatch.
Launching Le Terrible, France's new SSBN, French President Nicolas Sarkozy announced reductions in France's arsenal.
The recommendations were more adventurous than press reporting on the Livre Blanc had suggested.
Here is the text of the speech (in French; you can also watch it, though again en français). The important part is:
Ceci m'a conduit à décider une nouvelle mesure de désarmement : pour la composante aéroportée, le nombre d'armes nucléaires, de missiles, et d'avions sera réduit d'un tiers.

J'ai également décidé que la France pouvait et devait être transparente sur son arsenal nucléaire, comme personne au monde ne l'a encore fait.

Après cette réduction, notre arsenal comprendra moins de 300 têtes nucléaires. C'est la moitié du nombre maximum de têtes que nous ayons eu pendant la guerre froide.

En donnant cette information, la France est pleinement transparente car elle n'a aucune autre arme que celles de ses stocks opérationnels.
In case you don't speak French (or date a French speaker or know how to use GoogleTranslate), Sarkozy will cut the air-delivered leg by 1/3, bringing the total force below 300 warheads or half the number during the Cold War (aka la guerre froide). France keeps no warheads in reserve.
This is a significant step in transparency for the French, who have been cagey about the size of their force.
Sarkozy's announcement also calls into question existing estimates of the size of the French force — others have asserted 60 aircraft delivered warheads and 288 warheads (6 × 16) for three of four SSBNs for a total of 348. One cannot cut the aircraft delivered warheads by 1/3 and end up with less than 300 warheads. So, presumably, French SSBNs are either loaded with less than 6 warheads per missile or less than 16 missiles per submarine.
The French could, for example, load four warheads on 16 missiles across four boats for a total of 256. Cut the aircraft delivered warheads from 60 to 40, and one goes from 316 to 296.
Your guess is as good as mine.