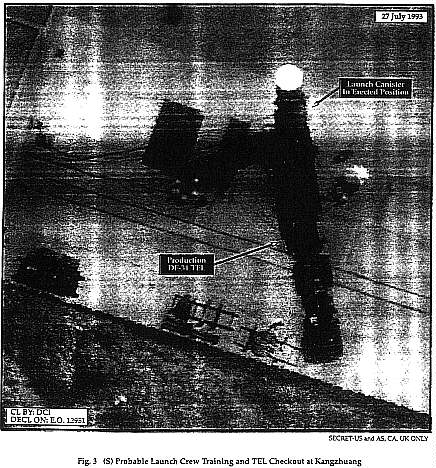 I've read Chinese Military Power and I don't agree that it says China increased the size of its nuclear force by 1/3. When I do the math, I get basically 110-160 warheads — about the same size as last year or a little larger depending on how many DF-21s have a nuclear role.
Not that number of warheads is the really interesting information, but I digress.
Before that post, though, something that matters is where the DF-31 is being deployed. I have two hypotheses:
(1) China will deploy the DF-31 to units operating the DF-4, replacing the older missile on a one-to-one basis and keeping a similar force structure.
(2) China will deploy the DF-31 to new units in new places, presumably to cover targets in the US of A.
Of course, one might imagine a combination of (1) and (2), say new DF-31 replaces the DF-4 and new units to operate the DF-31A.
I say all of this to draw your attention to the image at the top of the post.
The image, captioned Fig 3. (S) Probable Launch Crew Training and TEL Checkout at Kangzhuang, is from a classified November 1996 report by NAIC, leaked to Bill Gertz, and published it in the appendix of his book, Betrayal.
NAIC (now NASIC) placed the DF-31 TEL at a place called Kangzhuang (I found it at 40°22'6.16 N, 115°35'51.59 E). As far as I can tell, no one else has linked the DF-31 to Kangzhuang in any other public reports.
I've been watching the area in GoogleEarth for a year or so. Today, I notice that GoogleEarth recently replaced some lousy pictures with a lot of very good ones. And there is a lot evidence that Kangzhuang houses a missile base including:
Two valleys with buildings nestled in them that look very much look like other suspected missile deployment areas (Area 1 and Area 2).
A surface-to-air missile site at 40°18'10.45"N, 115°38'19.90"E.
A collection of strange looking buildings (Area 3) that seem military to me.
Anyway, I've saved them all in a GoogleEarth file for you.
Then again, I am a lousy overhead analyst. My readers, however, are pretty awesome. Anon nailed the Iranian Space Center at 35°23'20.46 N,53°44'11.05 E and Siwema used ground truth photos to place Egypt's ETRR-2 at 30° 17' 34.02 N, 31° 24' 35.45 E.
Have at it.