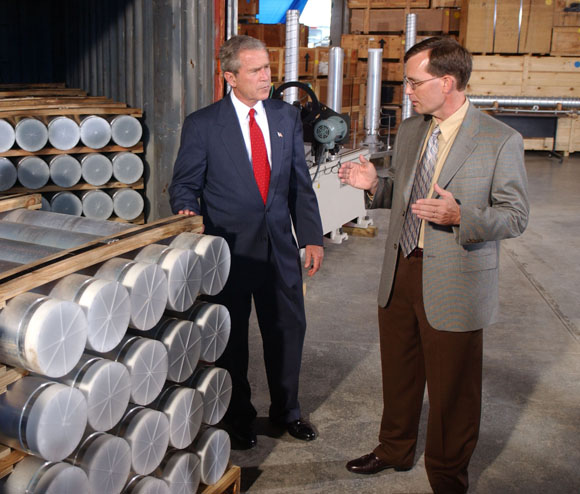 Uh, well, no Mr. President, you see, it isn't exactly like a Sit-N-Spin …
Frank Munger has great stuff on his blog again.
I missed this but, in September 2005, Y-12 General Manager Dennis Ruddy told reporters that the United States is actually operating centrifuges from Libya in order to gain insight into other countries nuclear weapons programs. Ruddy's comment appeared in a story by Munger in the Knoxville News-Sentinel, as well an AP stories (full text of the AP story in the comments).
Munger put the relevant section about operating Libyan centrifuges on his blog. Here is the full quote from his September 26, 2005 story ("Libyan nuclear equipment still at Y-12"):
In an interview last week, Y-12 general manager Dennis Ruddy initially declined to talk about the Libyan equipment.

He later acknowledged that government experts are still visiting Oak Ridge to scrutinize the centrifuge components. "That's a cooperative thing between us and the lab (ORNL)," he said.

Ruddy added, "There's a lot of interest in the things that we brought back from Libya because of lot of them, looking at them, measuring the tolerances, setting them up and operating them, to a certain extent tells us how close people are to be able to get a system that can work all the way to bomb-grade material."
I guess we should have assumed that. Still, kind of makes you take a second look at the most recent Iran NIE — especially that INR reference to "foreseeable technical and programmatic problems" — huh?
Ruddy's comment, Munger suspects, resulted in a decision by Y-12 contractor BWXT a few weeks later to pull Ruddy's security clearances and relieve him of his post as general manager ("Ruddy relieved of Y-12 duties," October 12, 2005).
Bolstering Munger's suspicion is the timing of Ruddy's dismissal and the fact that, whenever Munger asks ORNL employees about Libya, folks clam up. "Every time I ask a question with that word in it," Munger writes about Libya, "Oak Ridge folks act like I've asked them for the PIN to their bank cards."