I've noticed some confusion among folks about the disablement process in North Korea — let's make this very, very clear. All of the disablement steps are believed completed save for the unloading of fuel, which was delayed by the need to ready the cooling pond to receive the spent fuel and is on schedule to be completed in 100 days.
AS Hill himself stated that the "some of the things that held us up in disablement had nothing to do with any negotiation elements; rather, it was a safety and technical issue." Andreas Persbo — who represents a pretty informed outside observer — expressed some difficulty in imagining what those problems might be.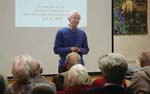 Sig Hecker (right), in a talk hosted by the Los Alamos Committee on Arms Control and International Security, explained that the issue was fixing the water treatment plant in order to correct the water chemistry in cooling pond. (This was completed, I think, on December 14; North Korea began unloading the fuel the next day or so.)
Water chemistry is essential to avoiding corrosion of the fuel rods while they are stored. One wants the right Ph level, and not too many minerals such as chlorides and sulfates, to prevent the fuel rods from corroding. For MAGNOX fuel, one wants a ph level about 11.5 and less than 1 ppm chlorides and 4 ppm sulphates to store the fuel for up to five years. (A nice mineral water, while it might taste good, would be a terrible choice for a cooling pond.)
If you want the details, the IAEA published a nice little primer, Further Analysis of Extended Storage of Spent Fuel, IAEA–TECDOC-944, IAEA, Vienna, 1997, see especially page 17.
The North Koreans, who planned to reprocess the fuel and were not concerned about long-term storage, just used regular water. The results, as David Albright explained back in 1994, were pretty ugly:
The current conditions in the spent fuel ponds do not bode well for long term storage. The North has implemented little Western technology to slow corrosion of the cladding.

[snip]

The actual rate of corrosion of the fuel in the ponds is unknown. The IAEA has reported that, based on its inspectors' observations, the water is opaque and dirty, and the ponds do not have adequate filtering or purification systems. A video of North Korean nuclear facilities made public by the IAEA in 1992 shows the spent fuel ponds green with algae.

More important, the IAEA has said that the North does not conduct detailed water chemistry analyses of the water in its ponds. It also does not control the level of certain impurities that can greatly accelerate cladding corrosion, particularly chlorides and sulfates.
Apparently, things hadn't gotten any better in the intervening 13 years.