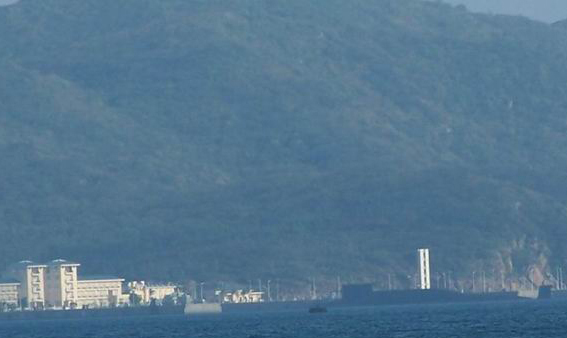 Another picture of China's new SSBN, this one said to be at Sanya, Hainan Island.
I am psyched! My Nuclear Strategy Initiative is hosting an open-to-the-public roundtable on China's Boomers: Implications if China's Deterrent Goes to Sea here at the New America Foundation on Wednesday (January 9 @ 12:15).
We have a great line-up of speakers:
Christopher Twomey, Assistant Professor and Associate Chair for Research, Department of National Security Affairs and Co-Director, Center for Contemporary Conflict, Naval Postgraduate School
Andrew Erickson, Assistant Professor, China Maritime Studies Institute (

CMSI

), Strategic Research Department, U.S. Naval War College
Christopher Yeaw, Associate Professor and Senior Strategic Researcher, U.S. Naval War College
Michael Glosny, Fellow, John. M Olin Institute for Strategic Studies, Harvard University
Michael Gerson, International Affairs Group, Center for Strategic Studies, Center for Naval Analyses
I will be moderating.
Afterwards, please join us for a celebratory happy hour at the Big Hunt (1345 Connecticut Ave. NW), starting around 6 o'clock. Our speakers are attending. Seriously, it is going to be awesome.
(I will also try to finally post the long-awaited third post in my series on China's SSBN force that began with Will China's Deterrent Go to Sea? and How Capable is the 094?.)