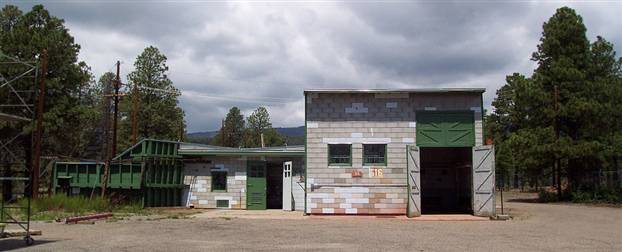 As many of you know, I am a sucker for nuclear tourism. This summer, while at Los Alamos, I got a chance to see the"High Bay" building (above) — where the "Fat Man" implosion device was assembled.
Los Alamos National Laboratory was able to restore the building with funds from the Department of Energy, National Trust for Historic Preservation, and the Atomic Heritage Foundation.
Now the Atomic Heritage Foundation and others are working to convince the National Park Service to preserve the B reactor at Hanford, which produced the plutonium used in Fat Man. McClatchy's Les Blumenthal has the rest of the story:
A National Park Service advisory committee will decide in early December whether to recommend placing the B Reactor on the list of National Historic Landmarks. Final listing decisions are made by the interior secretary.

The National Park Service also is considering whether to include the reactor, along with the world's first uranium enrichment plant at Oak Ridge, Tenn., and the Trinity test site at Los Alamos, N.M., where the first nuclear bombs were tested, in a national historical park that would tell the story of the Manhattan Project. A draft report is expected next spring and a final version at the end of 2008. Congress would make the final decision.
The Atomic Heritage Foundation has images of the B reactor, as well as links to stories about the tours in the Tri-City Herald and Seattle Times.
Some of my friends oppose preserving these sites, fearing that the exhibits will be one-sided hagiography of the nuclear weapons enterprise. After the Enola Gay fiasco at the Smithsonian, I understand their concern. Still, I come down firmly on the side of preserving important historical sites while we still can, leaving the fight over interpretation to future generations.
For more on the Atomic Heritage Foundation, you can take a look at their website or read John Arnold's profile in the Albuquerque Journal.