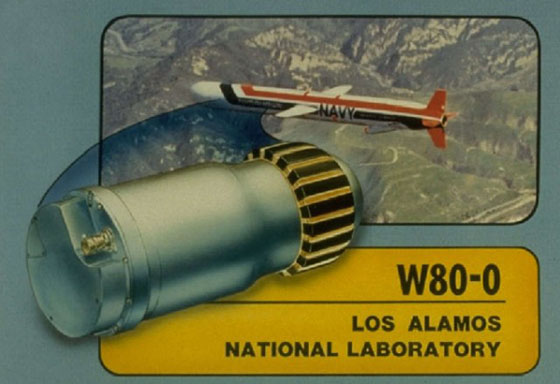 Scott Sagan observes that the W80 warhead — you know the type accidentally transported from Minot to Barksdale — doesn't have a fire-resistant pit (FRP).
Why does that matter?
Well, this is an old discussion, but when an aircraft carrying nuclear weapons have crashed, they've spread plutonium creating a nasty, if very localized, clean-up issue. (Hint to local first responders: be very careful using water.)
In 1990, the Drell Panel on Nuclear Weapons Safety recommended that all US nuclear weapons on aircraft have FRPs:
[A fire-resistant pit] would further reduce the liklihood of plutonium dispersal in fire accidents involving warheads equipped with IHE. In particular, current FRPs are designed to provide molten plutonium containment against the (~ 1000° C) temperatures of an aircraft fuel fire that lasts for several hours.

[snip]

[The Panel recommends that the United States] build all nuclear bombs loaded onto aircraft — both bombs and cruise missiles — with IHE and fire-resistant pits. These are the two most critical safety features currently available for avoiding plutonium dispersal in the event of aircraft fires or crashes.

[Drell's 1992 testimony has more.]
The recommendation — which, frankly, would have been a major undertaking to implement — was rejected in favor of a decision simply not to transport such warheads by air in peacetime. Ray Kidder explains the alternative:
An alternative to providing bomb and cruise missile nuclear
warheads with FRPs would be to use the following safety measures to reduce the need for them. In peacetime, these measures would prohibit:

(a) The transport of nuclear weapons by air or their deployment aboard aircraft in close proximity to operating runways.

(b) The refueling or engine startup of aircraft with weapons onboard or nearby.

A summary of accidents involving U.S. nuclear weapons systems is provided in Appendix E. The large majority (84%) of these accidents involved aircraft
The flight from Minot to Barksdale, obviously, egregiously violates that arrangement. The Air Force is right to be reassuring — an accident would have not resulted in a detonation or widespread plutonium dispersal.
However, had the B-52 crashed, and the plutonium burned, I don't think I'd want to be the Air Force spokesperson explaining that the plutonium contamination was limited to the immediate area of the crash site.
Update: A colleague suggests that DOD may still routinely transport weapons like the W80 by air. If so, that is a policy that should be changed.