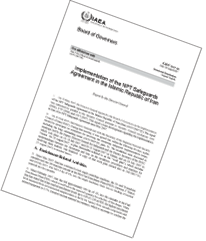 GOV/2007/28, like clockwork, is out on the ISIS website.
Items of note:
Hey, remember that David Sanger story about how, during the May 13 short notice inspection, "all the centrifuges appeared to be enriching uranium and running smoothly"? Yeah, well, the

IAEA

report states that "Between 17 March and 22 July 2007 … there was no feeding of nuclear material into the cascades." I guess someone lied to you David, but, then again, you don't give a f*ck, do you?
Iran is still underfeeding its centrifuges, although it is getting closer to the 70 grams/hour goal. The report states that "Since February 2007, Iran has fed approximately 690 kg of UF6 into the cascades at the Fuel Enrichment Plant (

FEP

), which is well below the expected quantity for a facility of this design." We know the 12 cascades didn't start operating until 22 July and that Iran used about 260 kg of hex during the 18 April-May 17 campaign. The 12 cascades consumed less than 430 kilograms during 22 July-19 August (29 days) or three-quarters the expected amount. Getting better but not really all that impressive.
Iran claimed to have enriched uranium to 4.8 percent U-235, but

IAEA

environmental sampling says the best they have done is 3.7%. The

IAEA

will need to look at the products and tails before they know for sure.
Iran has another 328 centrifuges close to operation (one operating without hex, another undergoing vacuum testing), with about 328 under construction. Guess they've finally pushed past the 2,000 mark. We'll see how well those work.
Update: Ahem, I am eating a little crow today. The looks like the "no feed" reference is only to the PFEP. Don't have the dates on the FEP cascade operation, yet. That let's Sanger off the hook — maybe — and drops the operating rate down substantially.