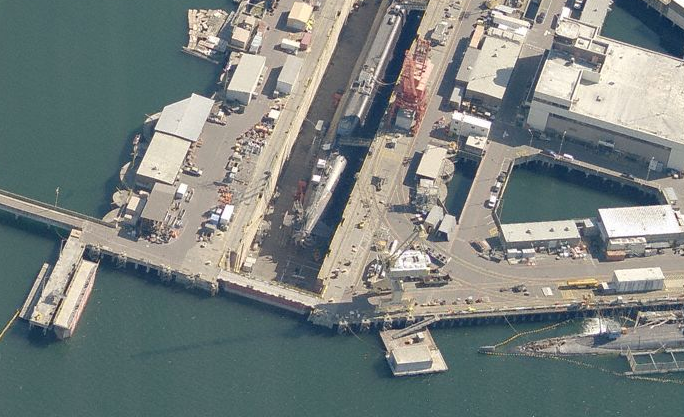 Oh, you thought this was a Larry Craig post. You are going to be very disappointed.
Or maybe not. This is yet another post about our favorite form of smut here at Arms Control Wonk — wonkporn.
See that picture above? Notice that instead of a tasteful tarpaulin, leaving something to the imagination, the propeller — which the Navy calls a "screw" — is exposed, naked as the day it was installed, for all to see?
The image, a rare glimpse of an Ohio-class submarine's secret propeller design, is from Microsoft's Virtual Earth. Dan Twohig found the image and linked to it on his blog, Monster Maritime, setting off a round of consternation and grandstanding not seen since Henry Miller published Tropic of Cancer.
The Navy Times refused to publish the picture or link to Twohig's website. (Twohig's blog, by the way, is still the best place to follow the story.)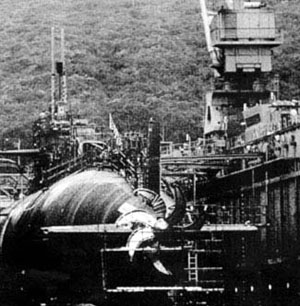 The Seattle Times was not so coy, linking to both Twohig's website and an amazing article on the Smithsonian website by Paul Forsythe Johnston, called "The Taming of the Screw."
Johnston, Curator of Maritime History at the National Museum of American History, details his efforts to have a submarine propeller included in a Smithsonian expedition. During his efforts — which resulted in the inclusion of a Sturgeon-class propeller model in the exhibit, "FAST ATTACKS AND BOOMERS: Submarines in the Cold War" — Johnston also uncovered an enormous amount of information about propeller design that was available, including a very similar picture of a 1970s vintage screw (right) available since the early 1990s.
Norman Friedman published this image, showing the stern of a Los Angeles-class (SSN 688) submarine at Holy Loch, Scotland.