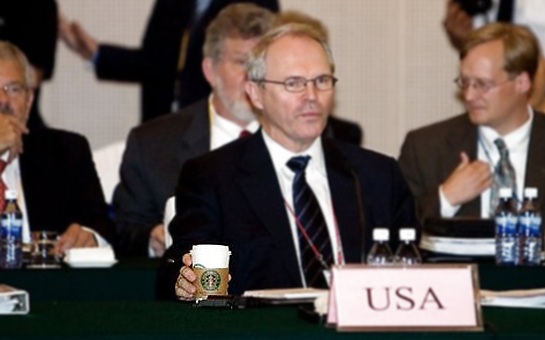 U.S. nuclear envoy Christopher Hill, center, sits with his delegate members attending the 2nd working group meeting on North Korea's nuclear program at the Liaoning Friendship Convention Center in Shenyang, northeastern China, Thursday, Aug. 16, 2007. Envoys to talks on North Korea's nuclear program met Thursday in northeast China to discuss the next steps in ridding Pyongyang of its atomic ambitions. (AP Photo/Andy Wong)
Yes, that is a Starbucks cup, logo forward, in the image.
One wonders if Hill is thinking about a career as a pitch-man for the Seattle-based coffee company, just in case this whole "globe trotting statesman" thing doesn't work out. I can only imagine the testimonials …
Often, when listening to one of Kim Kye-gwan's extended monologues, I sometimes start to nod off. That's when I reach for a doppio espresso from Starbucks …
Despite a gastronomic history stretching back thousands of years and a booming manufacturing sector, the Chinese people still can't seem to combine the two in a decent espresso or properly steamed milk. That's why I never go anywhere in China without a tall soy latte from Starbucks …
After a White House showing of the Manchurian Candidate, Dick Cheney's staff now requires all State Department officials to carry poison pills when traveling abroad. I like knowing, if it ever came to that, my last beverage will be a half-caf venti low-fat Mochaccino from Starbucks …
Submit your own in the comments.