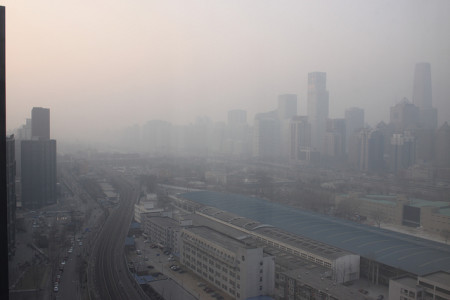 Climate change has displaced nuclear risk reduction as an intense focus of national leaders and activists across the globe. This sense of commitment was reflected in the Paris pact that sets targets to reduce harmful emissions to slow the pace of man-made climate change and the rise of sea levels. Arms control activists, an increasingly lonely and dispirited bunch, watched with a combination of gratitude and envy as environmental leaders applauded the compact struck in Paris. Now comes the hard part: even more than with arms control agreements, successful reductions in carbon emissions will be challenging.
I remember when national leaders, activists, and the media used to place similar attention to nuclear dangers. Ambitious treaties were the result – treaties that curtailed and stopped nuclear testing, stalled the buildup of nuclear arsenals and then greatly curtailed them. The accord reached in Paris may be likened to the SALT I stage – curtailed growth – a sign of progress and a necessary step before significant reductions can be achieved. Meanwhile, arms control advocates are in a holding pattern, hemmed in by Vladimir Putin's challenges and a Republican Party that opposes constraints on America's freedom of action.
At this juncture, it's worth considering ways in which cooperative international efforts to deal with climate change might facilitate cooperative efforts to reduce nuclear dangers in the future, especially in Asia. One of the distinguishing features of the Paris pact is that China and India have come on board, acknowledging the necessity to set emission targets that will be painfully difficult to meet. Both Asian giants were very reluctant participants at previous confabs. Both are counting on high growth rates for power projection. Beijing needs growth for domestic tranquility. And both countries are in a severe bind: large parts of Shanghai and Chennai could be underwater by mid-century, not to mention other low-lying areas. Growth fueled by fossil fuels is a short-term necessity, but comes with lasting and substantial costs.
Take, for example, the no-longer-hidden costs of terrible air quality. With research assistance from my colleagues at Stimson, Poorvie Patel and Akriti Vasudeva, I have a better understanding of the extent of this problem. Based on data from the year 2010, Johannes Lelieveld, the Director at the Max Planck Institute for Chemistry, and his colleagues published research findings in Nature estimating that 1.4 million Chinese die prematurely every year because of poor air quality. Another 650,000 Indian lives are shortened every year because of air pollution. Images of city dwellers trying to find their way through the haze of pollution are now emblems of modern life in China, India and Pakistan, which rank among the five worst countries in the world for air quality. Lelieveld and his team estimate that the global tally of premature deaths due to bad air is approximately 3.3 million human beings annually– a figure that could double by mid-century if the Paris pact is not implemented and if emissions continue to rise at the current rate.
If China and India were ever to find themselves in a limited nuclear exchange – an eventuality that I believe to be very remote – they could well suffer deaths and casualty counts similar to the numbers that Lelieveld has tabulated. Add to this the consequences of using more fossil fuels to spur economic growth on top of pollution caused by vehicular use and small fires started for domestic and agricultural purposes, and the yields or numbers of detonations from our hypothetical nuclear exchange grow accordingly. This cruel choice – to grow alongside rising death rates – can only be avoided by less toxic forms of energy generation, a transition that will take decades.
Pakistan has also been badly affected by climate change, where horrific floods and drought are facts of everyday life. The Max Planck Institute's analysis estimates that Pakistan suffers approximately 110,000 premature deaths annually – approximately 13 times those lost in battle during all of Pakistan's wars with India.
Bad air and water are already taking a large bite out of economic growth in China and India. An analysis by DARA suggests that China lost an equivalent of 1.4 per cent of its GDP to climate change in 2010. An Asian Development Bank analysis predicts that India will annually lose 1.8 percent of its GDP by 2050, due to climate change. Pakistan will likely suffer similar losses.
Chinese, Indian and Pakistani officials talk to each other about the risks associated with climate change. They do not talk to each other about nuclear risk reduction. If the costs of climate change warrant these conversations, so, too, do the costs of a nuclear arms competition and the consequences of nuclear detonations, whether accidental or purposeful. Climate change talks can also be one avenue to resuscitate U.S.-Russian relations. Only collaborative efforts and best practices across borders can make a dent into man-made climate change. The same holds true for nuclear risk reduction. Far-sighted leaders can use progress in one field to make inroads in the other.