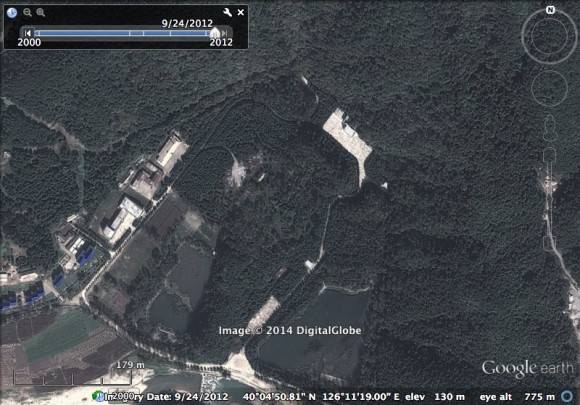 Apologies for the nonexistent blogging as of late — I wrote a book! (More on that later.) Writing takes an enormous amount of time, which is to say pretty much every second that doesn't involve chasing two tiny lunatics around the house. I also got sucked into a huge number of massive projects, none of which I have any funding for — Saudi Arabia, Myanmar, you name it. So, I've been busy.
But I am back. And I hope to start churning out new blog posts based on the past six months of intellectual "investment." Here we go with the first one — the Hagap (하갑) Underground Facility in North Korea.
1.
Hagap Underground Facility
One of the big questions is where North Korea's other centrifuge facilities might be located. I can't answer that for sure, but I've spent a lot of time squinting at a large underground facility near Hagap, located at:  40° 04′ 48″ N, 126° 10′ 56″ E.
This facility is noted in Wikimapia, but there is quite a bit about it in open-source materials that deserves to be collected all in one place. This is that place. The site isn't always mentioned by name, but it comes up again and again.
As best I can tell, the underground facility near Hagap was a matched pair with the better-known UGF near Kumchangni (Kumchang-ri). The United States detected construction at both around the same time. As best I can tell, the United States intelligence community concluded the UGFs at Hagap and Kumchangni were both nuclear-related because the same engineering unit that built both had also worked on Yongbyon. (Although the gas-graphite reactor and reprocessing line at Yongbyon are aboveground, there are lesser-known tunnels that raised Swedish eyebrows once upon a time.) Other details, I would argue, were then fitted around that general connection. (Mike Chinoy describes some of the ancillary details in an excerpt from Meltdown.)
The earliest mention I can find of Hagap in the press is in January 1998 — several months before Kumchangni. Someone leaked a DIA report to Eric Rosenberg of the Hearst Washington Bureau asserting (on the basis of very little evidence as far as I can tell) that although the "function of this site [at Hagap] has not been determined, but it could be intended as a nuclear production and/or storage site."
Behind closed doors, the leak played out as a sort of prologue to the Kumchangni fiasco. It seems someone also leaked the report to Congressional Republicans, who sand-bagged Madeleine Albright in a July 1998 closed hearing. New York Times reporter James Risen later described the scene:
Witness this incident, not previously disclosed: Secretary of State Madeleine K. Albright had just completed an upbeat, top-secret briefing for the House leadership in July 1998 on the Clinton administration's dealings with North Korea when one lawmaker posed the question he had been waiting to ask:

What was Dr. Albright's assessment of a recent intelligence report suggesting that North Korea had built a storage installation that housed components for nuclear warheads? And how long had she known about the report?

Dr. Albright, according to several people who were present, replied that she had learned of the evidence just two weeks earlier. In a startling departure from the united front that top administration officials usually present to Congress, Lt. Gen. Patrick Hughes, director of the Defense Intelligence Agency, immediately contradicted the secretary of state.

"Madame Secretary, I have to correct the record," said General Hughes, whose agency had produced the report, according to others who were there. "You were briefed on that intelligence a year ago."
Hagap stayed quiet, possibly because a nuclear-weapons storage site wouldn't violate the 1994 Agreed Framework in quite the same way as an underground reactor or reprocessing facility. So, about a month later, in August 1998, the New York Times had a front-page story about the other underground facility, the one near Kumchangni: NORTH KOREA SITE AN A-BOMB PLANT, U.S. AGENCIES SAY. This triggered an intense period of diplomacy, ultimately resulting in a US visit to the facility. Turns out, it could not hold a reactor and was really not well-suited for a reprocessing facility, either. (The layout was just too weird. More on that in a bit.)
After Kumchangni, there wasn't much interest in trying again, particularly with a facility that probably didn't violate the terms of the agreement.
2.
Enrichment
Then, in 2002, the United States intelligence community figured out that the North Koreans were buying LOTS of aluminum tubes — enough for thousands of centrifuges. Combined with other evidence from the Khan network, the United States intelligence community began to suspect that North Korea's centrifuge program was moving past basic R&D. This is an important distinction — both the Clinton and Bush Administrations thought the North Koreans were cheating with gas centrifuges to enrich uranium; what changed in 2002 was the assessed scale of the cheating. (I summarized this in a post a few years ago.)
Suddenly, Hagap was very interesting again. Press reports claimed the United States intelligence community was interested in three sites: a complex with tunnels near Yeongjeo-ri"(영조리) located at 41°21'48.67″N, 127° 3'58.12″E, the Academy of Sciences in Pyongyang, and — always listed first — our friend, the large underground facility near Hagap. (A defector report that places centrifuge operations near Huichon may refer to Hagap — Huichon is less than 20 km up river.)
Joby Warrick wrote a story that hinted Hagap was the main site, but he couldn't get anyone to confirm that on the record. Another reporter tried a different approach with then-Deputy SecState Richard Armitage:
MR. ARMITAGE: It is our view, and what we've spoken publicly about is Yongbyon, which has a possibility of reprocessing the 8,000 rods of spent fuel — and we don't quite know the exact status of Yongbyon — and another highly enriched uranium facility.

Q You think there is another one?

MR. ARMITAGE: And that's what we have talked to the North Koreans about.

Q Right. Is it the Hagap facility?

MR. ARMITAGE: I don't even remember the name. I don't know.

Q And you — you said —

MR. ARMITAGE: If I knew it I wouldn't tell you, but I —
Nice try. On the other hand, a "defense official" told Inside Defense that "U.S. intelligence analysts do not believe the Hagap complex is part of North Korea's uranium enrichment effort" adding that "U.S. surveillance efforts have detected 'articles of an historical or archival nature' being moved into the underground facility." For awhile, some people fingered Hagap as a site for high-explosives testing — although focus for that activity eventually moved to a place called Yongdoktong (sometimes Youngdoktong). I don't know whether testing moved, or just our focus. One sometimes see references to Hagap as a nuclear test site, which I think is a corrupted reference to testing of conventional high explosives for an implosion design.
In the end, the facility remained a mystery — as Barbara Demick wrote:
The facility in Chagang, known as Hagap, has been known to U.S. intelligence since 1996 and suspected of being variously a reprocessing facility, a high-explosives test site or even an underground nuclear reactor. But Daniel Pinkston, a North Korea military analyst for the Center for Nonproliferation Studies in Monterey, Calif., says more recent information suggests that it is merely a vast underground archive for the ruling Korean Workers' Party.
Ultimately, the US intelligence community decided that maybe there was no centrifuge facility after all — until the collapse of the Six Party Process in April 2009. The North Koreans built a new gas centrifuge plant at Yongbyon so fast — they showed it to Sig Hecker in November 2010 — that most of us assume this wasn't their first.
3.
Revisiting Hagap
It is worth revisiting the construction timeline of Hagap. Honestly, the completion of the facility looks pretty consistent with large procurements in the 2001-2002 time period. Here are shots from 2000, 2007, 2009 and 2012: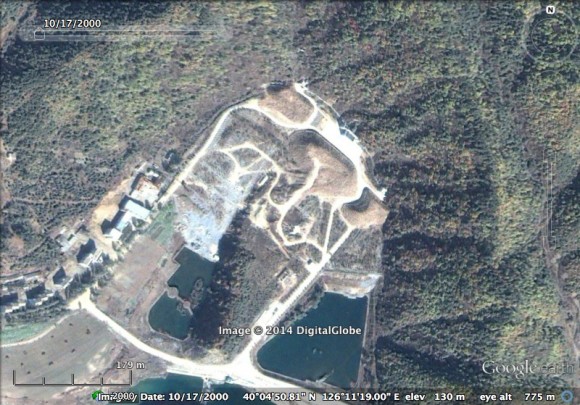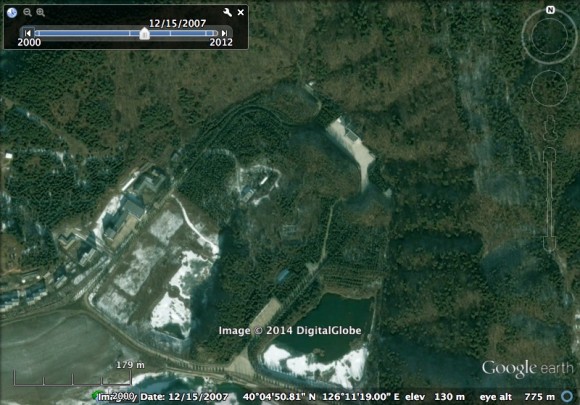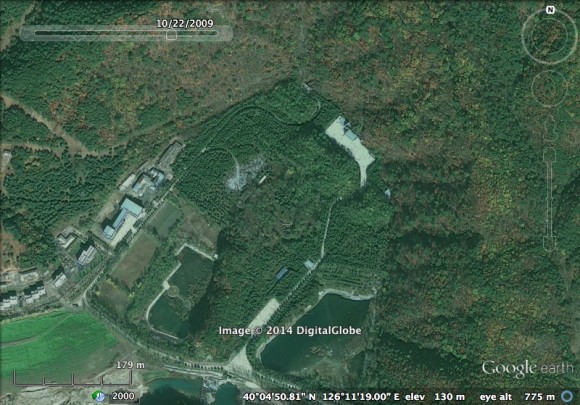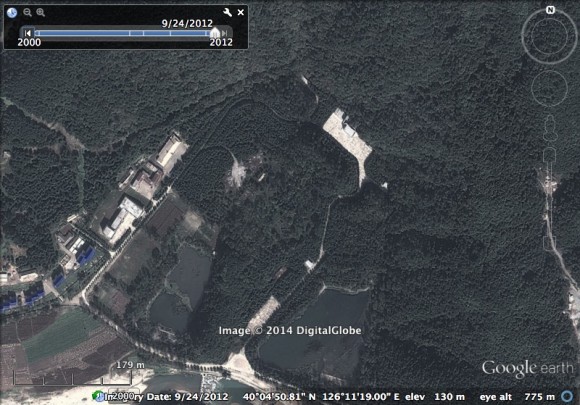 Moreover, the facility underwent a second expansion after 2009 — just as Yongbyon ramped up. There are a number of buildings that appear nestled in the valleys just to the east of the facility. Here are shots from 2009 and 2012: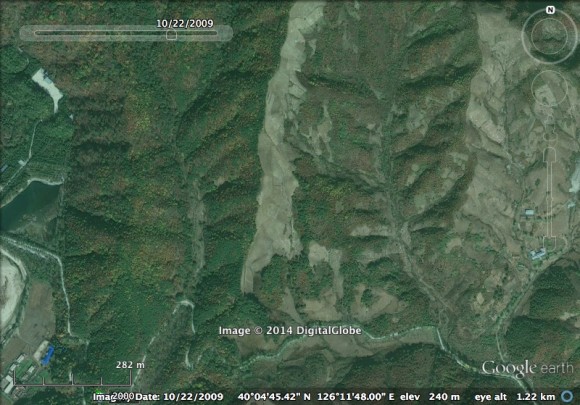 It's impossible to know if this is the centrifuge facility, or just a giant warehouse for statues of various Kim family members, but its easy to see why it is so interesting.
One possible explanation is that tunnels make us crazy — every time we think North Korea is up to something (which is basically always), we imagine that something is happening deep underground near Hagap.  It's become the Area 51 of North Korean underground facilities, a canvas for every conspiracy theory that comes along.  There are a bunch weirdos who think aliens attended Kim Jong Il's funeral.(I'll just link to the debunking.) I am sort of bummed they didn't have Kang stay over at Hagap.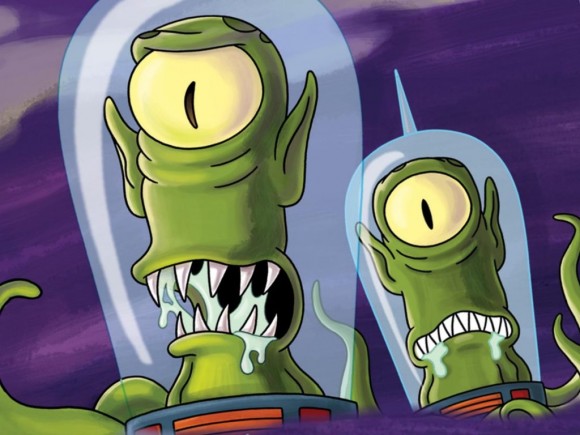 The other possibility, though, is that it really is something — but we just don't know what that is because the debates about Kumchangni and the uranium enrichment program are really proxies for a broader debate about our North Korea policy that doesn't permit too much pondering of the evidence, interesting though it is. I can't tell you that Hagap houses another enrichment facility. But just ruminating on the debate seems suggest some interesting things about our own domestic political debates.
4.
Kumchangni Revisited
So, let me close with a really unusual idea.  What if North Korea originally intended Kumchangni to house centrifuges?
When the US teams visited Kumchangni, it became clear the site was not going to be a reactor and probably not a reprocessing plant.  Here are the findings from the US team that visited:
— The site at Kumchang-ni does not contain a plutonium production reactor or reprocessing plant, either completed or under construction.
— Given the current size and configuration of the underground area, the site is unsuitable for the installation of a plutonium production reactor, especially a graphite-moderated reactor of the type North Korea has built at Yongbyon.
— The site is also not well designed for a reprocessing plant. Nevertheless, since the site is a large underground area, it could support such a facility in the future with substantial modifications.
— At this point in time the U.S. cannot rule out the possibility that the site was intended for other nuclear-related uses although it does not appear to be currently configured to support any large industrial nuclear functions.
The issue was the layout of the facility, which was weird. Here is one account of the series of narrow tunnels in a grid:
The 14-member U.S. inspection team that was ultimately allowed to visit in late May was forced to walk past a line of barking German shepherds before entering the site. Intimidation? But then they were free to walk through the six miles of empty tunnels, taking photos and videos. The tunnels were in a grid pattern: four running north to south and 17 running east to west. The east-west chambers were about 40 feet wide and about 20 feet high. The walls were unfinished and there was no equipment.
Was the site an elaborate decoy? Not likely, said one U.S. official. It took thousands of North Koreans about a decade to build it. An underground shelter? Also unlikely; there were no signs of amenities. Could it be adapted for nuclear energy material reprocessing? It would need drainage; otherwise radioactive material would spread throughout the facility.
"We don't know what it's supposed to be," said one U.S. official.
You have to use your imagination, but what they are saying is that the complex consisted of 17 halls, each 12 meters wide and a little less than 500 meters long. Let's assume the facility is a square — then it looks something like this with about 100,000 square meters of floorspace (17 tunnels that are each about 12 x 500).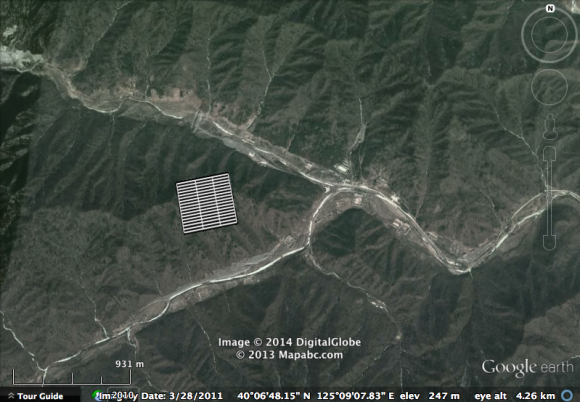 So let me just wonder aloud — or in print, I guess — does that look like it might have been for centrifuges? The footprint is much larger than, say, either underground enrichment hall at Natanz (which are 190 x 170 m each, and constructed in a cut-and-cover fashion).  The last finding — "cannot rule out the possibility that the site was intended for other nuclear-related uses although it does not appear to be currently configured to support any large industrial nuclear functions" — is pretty wishy-washy. A lot depends on what "currently configured" means, I guess.  Whatever Kumchangni was supposed to be, we never found out.
The DPRK, by the way, didn't exactly deny that the facility was nuclear — or promise that it never would be.  KCNA quoted the spokesman for the Ministry of Foreign Affairs stating that "The visit proved objectively that the underground facility in Kumchang-ri is an empty tunnel, not related to nuclear development at all. As a result, it was clearly proved once again that we have been sincerely implementing the Geneva agreed framework. The point is for what the tunnel in Kumchang-ri will be used. This depends entirely upon the attitude of the U.S. side concerning the implementation of the DPRK-U.S. agreement reached in New York."
That statement looks rather different, in hindsight.
I don't mean to suggest that I am persuaded that Kumchangni was for a centrifuge program, any more than I am convinced Hagap was built for that purpose.  But I do think that the history of these two facilities is interesting and worth setting down in one place, largely because I suspect we haven't heard the last of them.