Just a short note from Amman about the IAEA report on Iran …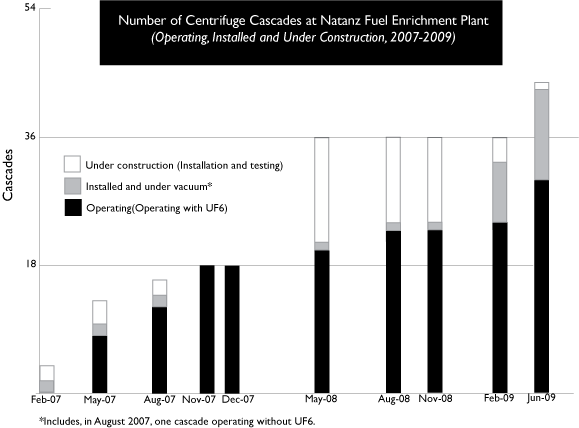 In February, after the last IAEA DG report came out, I warned readers not to buy IAEA DG Mohamed ElBaradei's analysis that "the pace of installing and bringing centrifuges into operation [in Iran] has slowed quite considerably since August…"
Quite the opposite. I hypothesized that Iran was accelerating installation by working on many cascades at once. That meant, in the short term, Iran might bring fewer cascades on-line, but that in the long-term they would bring cascades on-line in big bunches:
… I suspect the Iranians are actually scaling up their installation work. Here is my hypothesis:

Initially, the Iranians were building one cascade at a time, like a succession of small art projects. They had limited experience installing cascades and probably a small number of trained personnel. So, in the Board Reports, one would see a pattern: a few cascades, one or two under vacuum and a handful under installation. In the next report, the cascades under vacuum testing would have become operational, while a few more of the ones under installation had graduated to vacuum testing.

Now, Iran seems to have shifted to mass assembly. Installation on all the cascades in the second module has proceeded more or less simultaneously. So instead of small, but steady, increases in the number of centrifuges, I would expect the installation to resemble a step function in the future — with each increase being relatively large. Hence, the nine cascades about to brought into operation.
Looking at the IAEA report, and the chart I created, I think it is pretty clear that my hypothesis is correct: The Iranians are going faster now.