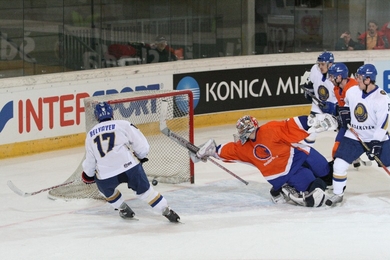 The Second CWC Review Conference (2008) has a nice website and some excellent live blogging by Cheryl Voss and Daniel Feakes.
Somehow, though, they both missed (I stand corrected). Cheryl Vos noticed an extraordinary statement by the Dutch Foreign Minister regarding his hopes and dreams for the OPCW:
One of the world's best ice hockey players, the Canadian Wayne Gretzky, once said that a good hockey player plays where the puck is; but a great hockey player plays where the puck is going to be. The ambition of this review conference should be to turn the OPCW from a good player into a great player. Understanding the future and preparing for it are key. I wish you a most productive conference.
All of this raises the natural question, of course, do the Dutch play ice hockey?
The answer, as the picture above suggests, turns out to be "yes" — though not very well. That's a Dutch goalie, letting a pick slip by, in a 3-1 loss to mighty Kazakhstan.
Wonders never cease.